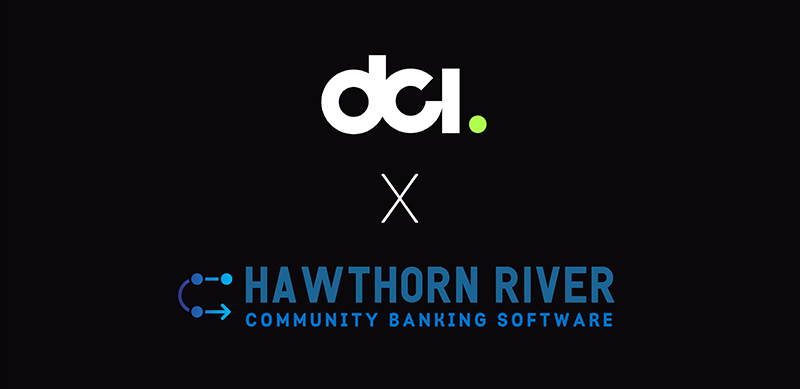 Hawthorn River and DCI Successfully Launch Real-Time Inquiry and Booking to iCore360
Integrated solution helps community bankers further streamline the loan origination process to elevate productivity and improve data quality.
Hutchinson, Kan., September 18, 2023 – Hawthorn River, a trusted leader in lending software solutions for community banks, has successfully launched its real-time integration to DCI's iCore360 platform to help financial institutions eliminate rekeying data while simultaneously improving data quality.
DCI (Data Center Inc.), the privately-owned developer of core processing, digital banking, and Fintech processing solutions, invested heavily in the expansion of its existing Application Programming Interface (API), yielding a joint solution with Hawthorn River that provides major advancements for its customers.
The new interface between Hawthorn River's end-to-end loan origination solution and DCI's core processing platform enables bankers to look up customer information in real-time when originating a loan, eliminating the need to rekey information. Furthermore, when a loan is ready to be loaded on iCore360, the banker can automatically board the loan details with the click of a button. Additionally, a rules engine enables transactions to be automatically coded so that regulatory reports are more accurate.
"We are excited to launch our joint integration with Hawthorn River," said Sarah Fankhauser, DCI's President and CEO. "We understand the importance of providing our customers the most advanced solutions in the market while ensuring those solutions operate seamlessly through our robust APIs. The effort between our two companies exemplifies the power of partnership."
A huge plus of the partnership DCI has with Hawthorn River is the ability to quickly implement banks by focusing on the necessary process changes instead of unnecessary technology barriers. The integration architecture further advances this strength as the API can be fully operational in Hawthorn River within minutes of activating a new customer.
"We served as an early adopter of the API between Hawthorn River and DCI", said Kent R. Bierma, President of DeMotte State Bank. "This enabled us to provide input to the software development teams so that we could optimize the overall experience, not just for our bank but for other banks who use the interface in the future. We learned a lot through this process and are thrilled with the ability to quickly board new loans with a high level of confidence."
The quick and efficient boarding process, along with the time-saving workflows, help community financial institutions continually grow their loan portfolio while keeping non-interest expenses in check.
"It was a pleasure to work alongside DCI and our joint customers on this project," said Wayne Ferrell, cofounder and CTO of Hawthorn River. "I was amazed by how engaged DCI was in the process – they rolled up their sleeves and worked alongside us every step of the way to make sure the end result was as seamless as possible."
###
About DCI
DCI is the developer of the award-winning iCore360® core banking software, plus iCoreGO® digital banking and fintech processing solutions for community financial institutions nationwide, including those using other core platforms. DCI is privately owned by a group of bank clients, with several serving as board members and user group leaders. DCI also provides private ATM network/card management, FrontLine teller software, custom analysis, risk/vendor management, and more. For additional information about DCI, visit www.datacenterinc.com or contact info@datacenterinc.com.
DCI Contact:
Jesse Tosten
Director of Marketing
jtosten@datacenterinc.com
620-694-6773
About Hawthorn River
Hawthorn River is community banking software designed by community bankers. Their mission is to position community banks to remain competitive and independent in a rapidly consolidating industry. From streamlining the end-to-end lending process to automating specific steps along the way, Hawthorn River helps community banks increase productivity, reduce regulatory risk and elevate the borrower experience. For information, visit www.hawthornriver.com.
Hawthorn River Contact:
Jon Rigsby
CEO
jrigsby@hawthornriver.com
314-220-5009