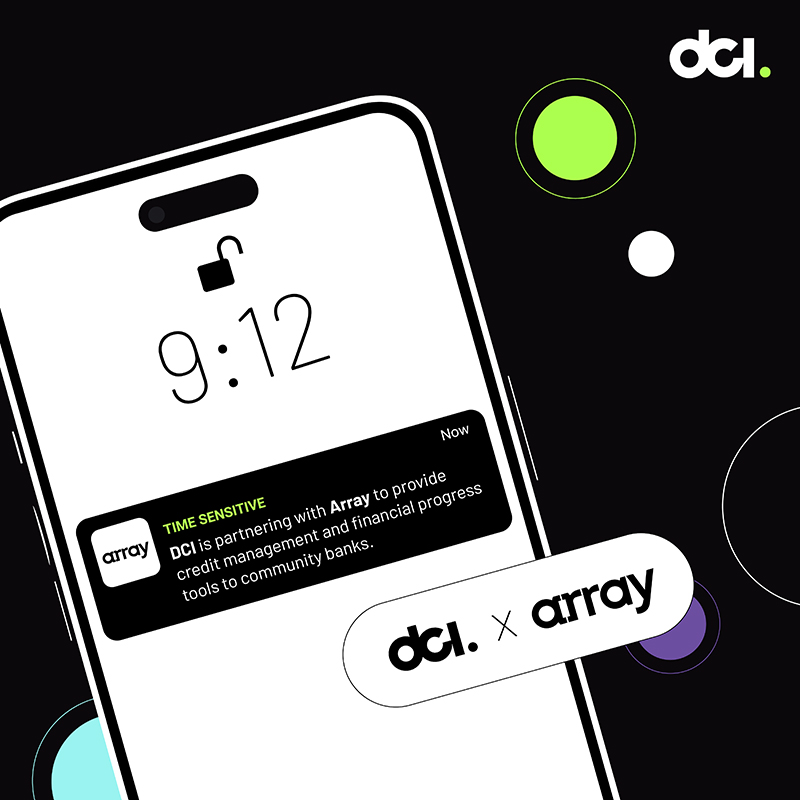 Array and DCI Partner to Provide Credit Management and Financial Progress Tools to Community Bank Customers
DCI will offer Array My Credit Manager, ID Protect and Offers Engine to Its Client Base; Array will Present at DCI's Annual Bankers Conference September 17-19
Hutchinson, Kan. — September 18, 2023 — Array, a leading financial innovation platform, and DCI, the privately-owned developer of core processing, digital banking, and Fintech processing solutions, are partnering to provide community financial institutions with a suite of new solutions that will help their customers better monitor their credit, benefit from anti-fraud identity monitoring, and access actionable credit-based offers.
"Array is accelerating digital banking for community institutions by providing innovative technologies that can help strengthen relationships between financial institutions and their account holders," said Sarah Fankhauser, DCI President and CEO. "Through our collaboration, we provide valuable new options to help bank consumers better manage and protect their financial wellbeing."
Array My Credit Manager enables users to view, understand and manage their credit information. They can receive score change alerts, interact with a score simulator, and view credit score factors and debt analysis components. ID Protect includes identity monitoring, insurance and restoration services that help keep users safe from fraud. It features dark web monitoring, alerts and identity theft restoration services. In addition, financial institutions can leverage Offers Engine to market their services to account holders with actionable offers based on the user's individual credit-data attributes and matched to appropriate credit products, resulting in greater relevance and likelihood of approval.
"Consumers have increasingly higher expectations of their primary financial institutions, and they want more products and information within their banking experience to help them make financial progress," said Martin Toha, Co-Founder and CEO of Array. "Our partnership with DCI enables community institutions to differentiate themselves in the market while providing the ability to increase engagement and potentially generate more loan volume."
As part of this new partnership, Array will present its product portfolio to DCI's upcoming Annual Bankers Conference in Kansas City on September 17-19. Attendees will hear from thought leaders and learn more about what DCI and Array can do for community banks.
About DCI
DCI is the developer of the award-winning iCore360® core banking software, plus iCoreGO® digital banking and Fintech processing solutions for community financial institutions nationwide, including those using other core platforms. DCI is privately owned by a group of bank clients, with several serving as board members and user group leaders. DCI also provides private ATM network/card management, FrontLine teller software, custom analysis, risk/vendor management, and more. For additional information about DCI, visit www.datacenterinc.com or contact info@datacenterinc.com.
About Array
Array fuels financial progress for many of the world's leading fintechs, financial institutions, and digital brands with a suite of private-label fintech solutions that can be easily embedded. Array drives engagement and revenue for our clients by helping them stand out in a crowded market and forge deeper relationships with their customers. More than a suite of products, we're building a platform to help consumers own their financial future.
Array was founded in 2020 by Martin Toha and Phillip Zedalis. Key investors include Battery Ventures, General Catalyst, and Nyca Partners. To learn more visit array.com.